Charlotte of Albret


Season(s)
3
Portrayed by
Ana Ularu
First appearance
The Wolf and the Lamb
Episode count
1
Information
Status
Alive
Title
Duchess of Valentinois
Residence
France
House
House of Borgia (by marriage)
Parents
Alain I of Albret (father)
Spouse(s)
Cesare Borgia
Other relatives
Louis of France
Joan de France
"Tell me about love, my husband."
―Charlotte of Albret to Cesare Borgia
Charlotte of Albret became the wife of Cesare Borgia in season 3, episode 5.
Biography
Edit
Charlotte is presented by Joan of France wife of Louis of France.
Relationships
Edit
Cesare Borgia
Edit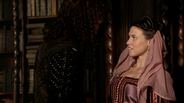 Cesare meets Charlotte d'Albret during his journey to France. King
Louis of France
offers her, among other things, to him as a wife, in exchange for the Papal bull that annuls his marriage. Charlotte and Cesare seem to have chemistry right from the start. Both claim to be to each other's satisfaction. None of them seems to really care about whether or not they will truly love each other. Charlotte's dowry is 50,000 ducats and property to match his title of Duke of Valentinois.
Ad blocker interference detected!
Wikia is a free-to-use site that makes money from advertising. We have a modified experience for viewers using ad blockers

Wikia is not accessible if you've made further modifications. Remove the custom ad blocker rule(s) and the page will load as expected.