The Borgias in Love

Episode still of Ursula Bonadeo and Cesare Borgia
Information
Episode number
Season 1
Episode 5
Directed by
John Maybury
Written by
Neil Jordan
Advisories
Adult content, violence
Air date
April 24, 2011
Running time
53 minutes
Episode chronology
Previous
1x04 Lucrezia's Wedding
Next
1x06 The French King
The Borgias in Love is the fifth episode of season one, as well as the fifth episode of the series. It was written by Neil Jordan, and directed by John Maybury.
Storyline
Edit
Plot synopsis
Edit
Alternately neglected and abused by her cruel husband, Lucrezia has an affair with Paolo, a handsome stable boy; Cesare strikes a bargain with Machiavelli: deny French troops passage across his masters' lands in exchange for suppression of Savonarola, a fiery preacher of anti-Medici sermons; in love with baroness Ursula, Cesare takes drastic action to get rid of her husband.[1]
Appearances
Edit
Jeremy Irons as Rodrigo Borgia
François Arnaud as Cesare Borgia
Holliday Grainger as Lucrezia Borgia
Joanne Whalley as Vanozza Cattaneo
Lotte Verbeek as Giulia Farnese
David Oakes as Juan Borgia
Sean Harris as Micheletto Corella
Steven Berkoff as Girolamo Savonarola
Colm Feore as Giuliano Della Rovere
Julian Bleach as Niccolo Machiavelli
Ruta Gedmintas as Ursula Bonadeo
Luke Pasqualino as Paolo
Mickey Sumner as Francesca
Peter Sullivan as Cardinal Ascanio Sforza
Ronan Vibert as Giovanni Sforza
Ivan Kaye as Duke Ludovico Sforza
Keith Burke as Gian Galaezzo
James Woolley as Ambassador of Navarre
Emily Taaffe as Gabriella Visconti
Nicholas Rowe as Baron Bonadeo
Frank Bourke as Medic

What did you think of The Borgias in Love?
On the door to Lucrezia's bedroom there is a flag that matches the Alfa Romeo automobile company logo. The images are switched from left to right but they are unmistakable. Both date back to 5th century Italy and are associated with Milan; the serpent (Biscione) which is the emblem of the house of Visconti and the Red Cross on White Field which is the Emblem of Milan.[2]
Sneak peeks
Edit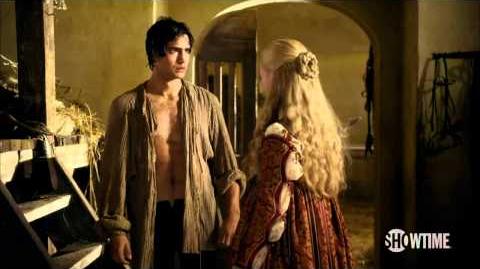 References
Edit
Ad blocker interference detected!
Wikia is a free-to-use site that makes money from advertising. We have a modified experience for viewers using ad blockers

Wikia is not accessible if you've made further modifications. Remove the custom ad blocker rule(s) and the page will load as expected.